What is Thread?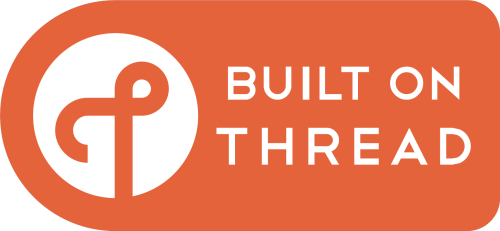 Thread is a reliable, secure and energy-efficient network protocol that provides fast response and extended coverage to enhance the smart home experience. As an open IP-based standard, Thread enables devices to integrate securely, reliably and easily into smart home and connect directly to the cloud.
Benefits for a smart home
Thanks to its low latency, Thread provides fast response for near-instantaneous control. As an IP-based mesh network, Thread provides the ability for devices from different vendors and ecosystems to share the same mesh network. Thread automatically adapts to create a resilient, self-repairing network. Devices powered by the network repeat signals, making the mesh network stronger and extending its reach into remote corners of homes and buildings. The Thread network eliminates the need for a dedicated hub to manage the network. Increasing the number of nodes in the mesh network strengthens it and eliminates intermittent connections.
Designed from the ground up to support small IoT devices, Thread's network leverages proven technologies such as the IEEE 802.15.4 low-power standard and other techniques to ensure lower energy consumption. With this low power consumption, Thread significantly extends battery life and improves device performance.
Finally, Thread networks are designed with security in mind. Devices are authenticated before connecting to the network and messages on Thread networks are encrypted using proven security algorithms to prevent unauthorized access.
Support by leading brands from the smart home world
Thread is supported by hundreds of members, from innovative startups to leading brands that define the connected home and build lifestyle. These include brands such as Amazon, Apple, Google, Osram, Qualcomm, Siemens and Somfy. All Thread-certified products undergo rigorous testing to ensure devices connect effortlessly and securely.
The future 
Thread is based on commonly available proven technologies: routing, packet routing, security and wireless radio technology. This leads to IT developers knowing how to use and configure it and leveraging proven technologies to ensure it integrates well with existing infrastructure.
Thread uses IEEE 802.15.4 radio technology in the 2.4 GHz spectrum that can be deployed worldwide. This allows for large-scale production and easy installation as the same equipment and network technologies can be used in all regions.
Thread is not limited to one particular set of applications or usage protocols. As with a wide range of Wi-Fi devices, Thread is an open standard that is not tied to a specific manufacturer, making it future-proof and not limited by the market strategies or product roadmap of any one company or platform. This minimises the risk of incompatibility and proprietary modifications that often require extensive debugging and higher maintenance costs.