The Humelle Smart Humidifier will humidify and scent your home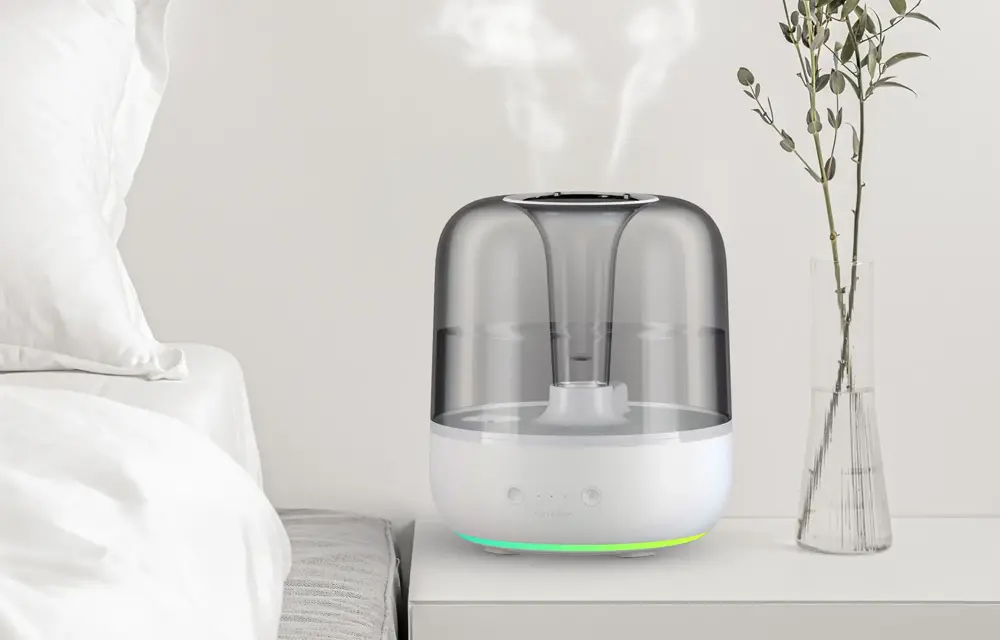 Say goodbye to dry air conditions! 
Did you know that humidity between 40% to 60% is optimal for your living space? Embrace elegance as you manage humidity levels with our brand-new Humelle air humidifier. This sleek device boasts a capacious 5.5-liter water tank and can run continuously for an impressive 60 hours. Its capabilities extend to rooms as large as 50 m² ensuring an even dispersion of soothing, moist air.
The Humelle Humidifier creates a healthier environment for those suffering from allergies, chronic rhinitis or dry skin. This device is perfect for heated or air-conditioned offices. It can help enhance your productivity by keeping the air in the room fresh and moisturized.
Equipped with intelligent automatic humidity adjustment, the humidifier is seamlessly integrated into your Sleekpoint app. Set your desired humidity level effortlessly and our smart algorithm takes it from there. It calculates and releases the optimal amount of mist required to attain and sustain the ideal humidity levels. Should humidity dip below your preset target, the mist level adjusts automatically, ramping up to restore the perfect balance. And in instances where your room verges on excess humidity breaching the designated threshold, the humidifier simply regulates itself by adjusting the mist level or temporarily suspending it.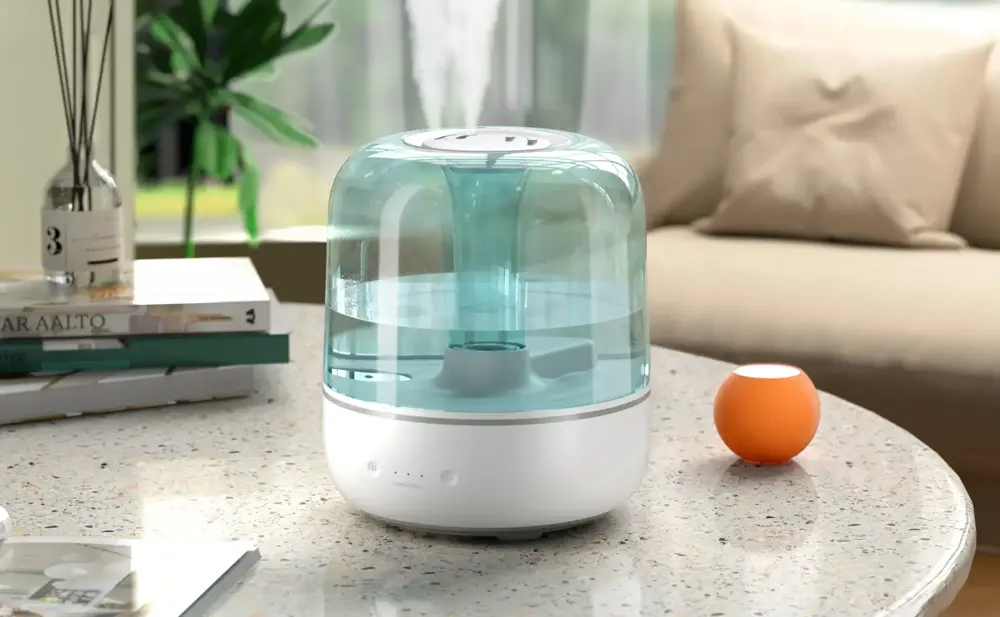 Set the perfect ambiance with essential oils and intelligent backlighting
Simply add a few drops of your favorite essential oil to the built-in reservoir filter and Humelle will instantly fill your home with fragrance that evokes a sense of peace and relaxation. Unlike other humidifiers, the essential oils in Humelle evaporate directly into the air without any contact with water, effectively eliminating the risk of overpowering scents in the air. The intelligent backlight features 16 million colors and several preset modes to perfectly enhance room ambiance. You can purchase essential oils on our online store.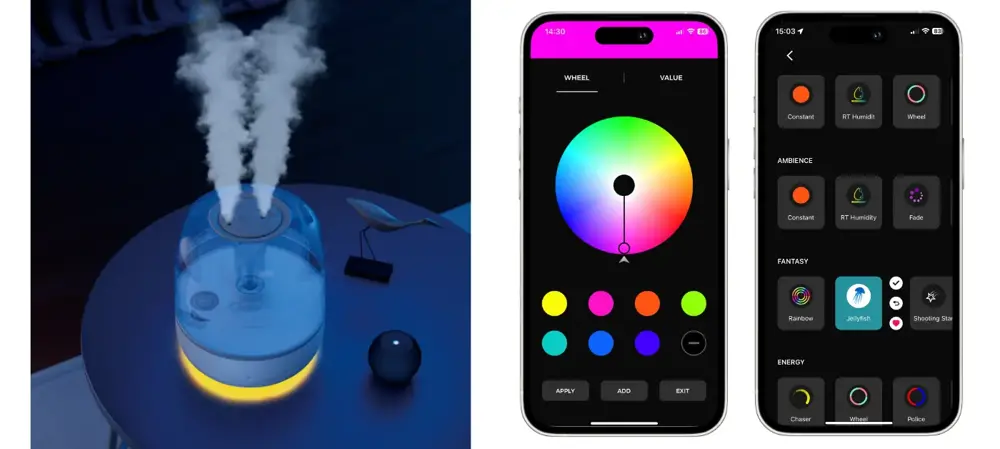 Humelle is the first humidifier to support THREAD technology
It's the first ever smart air humidifier for Apple HomeKit using THREAD technology. This technology uses the latest wireless protocol for the smart home. Automise Humelle through the native Sleekpoint app or control it with your voice through your favorite assistant.
THREAD technology uses the latest wireless protocol to create a standalone wireless network designed for smart homes. With each additional THREAD-enabled smart device the network becomes more robust and secure. Unlike Wi-Fi or Bluetooth the network does not get unnecessarily overwhelmed by unwanted devices. Your smart home therefore operates on a "clean" network without unnecessary interference. You can read more about THREAD technology here.

Download the Sleekpoint app and enjoy the most of all its features
Turn on the humidifier using the app and select the humidity intensity
3 humidification modes - manual / automatic / night mode
Automated humidity target
Smart backlight - 16 million colors and pre-set modes
Set schedules
Add devices into group based on room type
Control via Home app (iOS)
For control outside of the home you need to have a Home Center (HomePod 2nd Generation, HomePod mini or Apple TV 2021 or later)

Technical specifications
Dimensions 230 x 230 x 265 mm
Weight 1,85 kg
5.5-liter tank capacity
Max. runtime up to 60 hours
Suitable for rooms up to 50 m²
Max. mist output 330 ml/h
Touch controls
3 modes and 10 levels of humidification
Night mode
Apple Home
Sleekpoint app
THREAD technology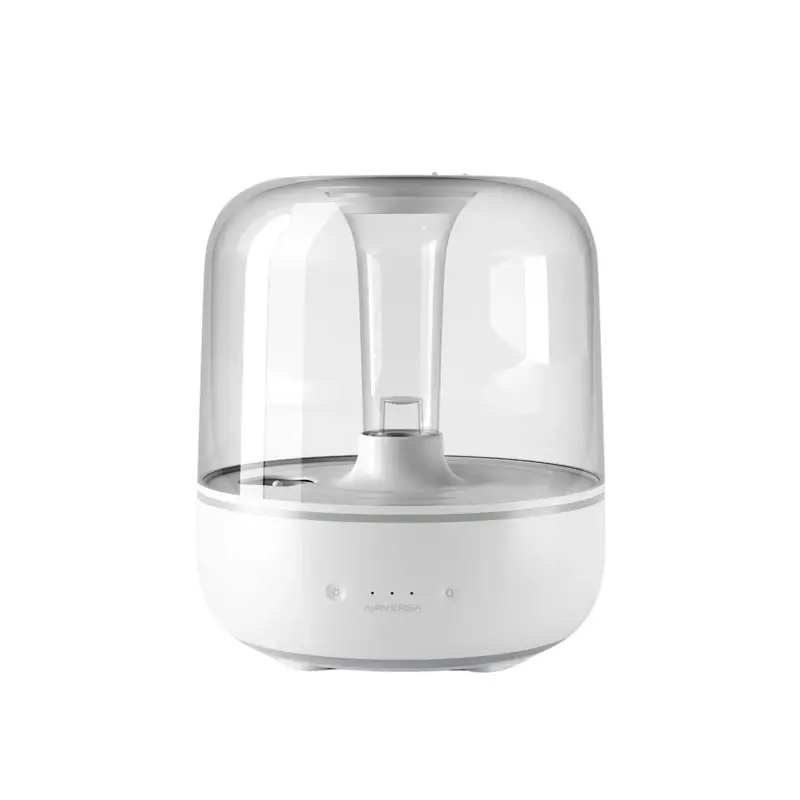 AIRVERSA Smart Humidifier AH1
139,99 €
115,69 € excl. VAT